Posted on Jan 02, 2014 8:00 AM by Sarah Kovac
Snowy winter days are the perfect time for all kinds of fun that we can't enjoy at any other time of year. So grab your mittens and pick one of these awesome snow day activities to enjoy with the kids.
---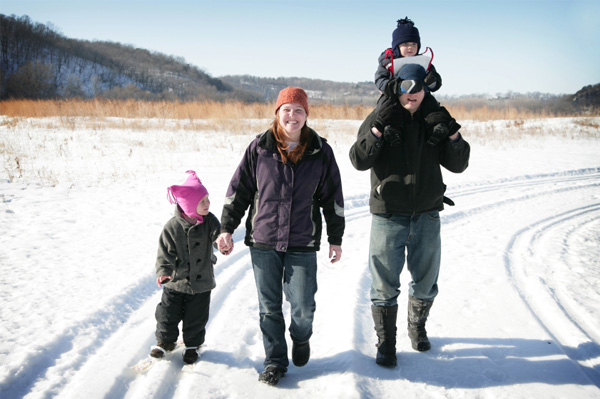 It's getting cold outside, but that doesn't mean kids have to be stuck indoors or bored. In fact, there are certain kinds of fun that can only be had when there is snow on the ground and frost laces the windows. We've rounded up some snow day activities your kids will love.
Snow taffy
What's better better than a day of playing in the snow? Finishing off a day of snow play with candy made from scratch! With this recipe for maple snow taffy, you can give your kids the snow day of their dreams. Click here for directions.
Snow ice cream
Again, you can't lose when you combine a day off of school with sugar. If you're expecting several inches of snowfall, set out a large bowl to collect it and the kids will love watching it accumulate until you have enough for a big batch of snow ice cream.
Snow coloring
Dig out some old squirt or spray bottles and fill them with water and food coloring. Invite the kids to take the bottles out into the snow and create a masterpiece in the back yard.
Bring the snow inside
If it's just too cold for outdoor play, bring the outdoors in by collecting snow in large tupperware containers and invite the kids to make mini snowmen in them.
Ice suncatcher
If you're expecting a few days of below freezing temperatures, an ice suncatcher is a great way to invite your children to enjoy the season. Walk through the yard or neighborhood with your little one, gathering any small bits of nature along the way. Pine cones, dried leaves,  and pebbles will work great. Go home and fill a bundt pan halfway full of water and leave it outside to freeze. Once frozen,  bring inside and place your collection of goodies in the pan. Fill the rest of the way with water and leave out to freeze again. When it's done,  you'll have made an ice wreath which you can pop out and hang from a sturdy branch with rope. As it melts your kids will enjoy watching the little treasures fall to the ground.
More family activities
Best family word games
Plan a fun family game night
Top 10 ways to keep kids entertained on a road trip