Best Blueberry
Scone Recipe
Posted on Jan 03, 2014 8:30 AM by Naomi de la Torre
Wake up the family for a breakfast treat with this classic recipe for blueberry scones. Light, rich, buttery and with the sweet tang of blueberries—this scone is guaranteed to make all your pastry dreams come true.
---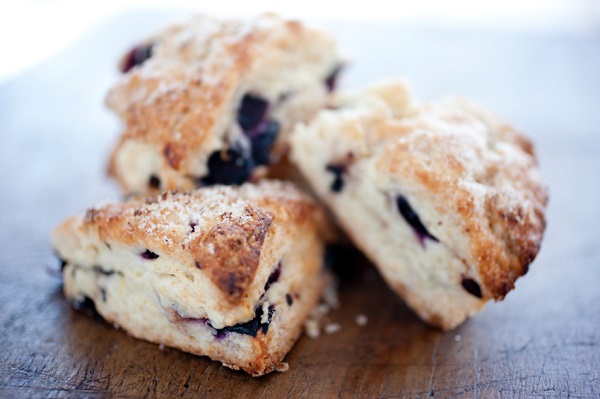 If you've ever had a scone that was so flaky and tender that it literally brought tears to your eyes, then you will understand what we mean by the perfect scone. Born of the biscuit family, some scones can be so tough and dry, they'd easily serve as dumbbells or door stoppers — but not this recipe.
The key to making melt-in-your-mouth scones is getting the right balance of wet and dry ingredients and taking special care not to over-mix the matter. That's it! This recipe calls for blueberries, but you can use the basic mix to make any kind of scone you choose, such as raisin, cranberry orange, cinnamon or chocolate chip, you name it. Mmmmm…
Ingredients
3/4 cups sugar
2 cups flour
2 teaspoons baking powder
2/3 tsp salt
6 tablespoons cold butter
1 teaspoon vanilla
1/2 teaspoon lemon zest
1 cup heavy cream
1 cup blueberries
Directions
Preheat your oven to 450 degrees. Zest your lemon and measure out 1/2 teaspoon.
In your food processor, mix together your sugar, flour, baking powder, salt and lemon zest.
Take your butter out of the fridge and cut it into small pieces with a butter knife. Add the butter to the food processor and pulse just until the butter is dispersed into the batter.
The batter should be crumbly and look like kind of like sand. It's okay if there are still a few small chunks of butter, it's better to slightly under-mix, rather than over-mix the dough.
Add your vanilla extract to your cream before adding the cream to the food processor. Pulse gently until the cream is mixed in and the dough holds together. Remove the dough from the processor and mix in the blueberries by hand.
Line a baking sheet with parchment paper.
Roll the dough into two circles that are about 3/4 inch thick. Cut the dough into triangle wedges (the same way you would cut a cake). Gently move the wedges apart to create space for them to expand while baking. They should have about 1/2 inch of space between them.
Place the pan in the oven and bake at 450 for about 12-15 minutes until golden brown.
More yummy recipes