Power Up With
These Superfoods
Posted on Jan 13, 2014 8:00 AM by Naomi de la Torre
Goodbye kale and quinoa! You're soooo 2013. Say hello to the new super-powered superfoods of 2014.
---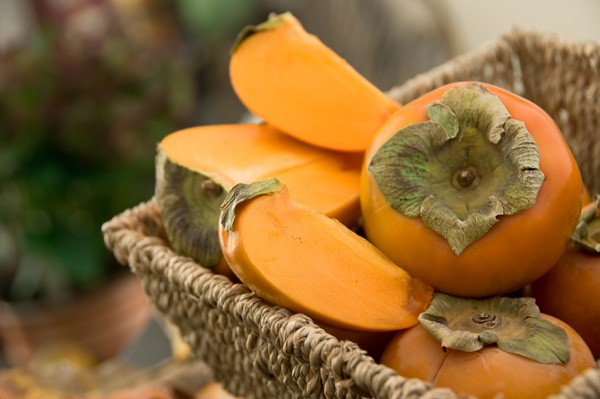 Being healthy and nutrition conscious is still on-trend in 2014, with a whole new list of foods that can revitalize your health and well-being. If you're bored with your newsfeed being crammed with 50 ways to add more kale into your diet, take a peek at these nutritional powerhouses you are sure to love.
Ghee
Eat more butter for your health? You betcha! Ghee is a healthy, purified butter that has been used in India since ancient times as both a medicine and a food. Unlike traditional butter, ghee can actually reduce cholesterol in the body, as well as removing toxins and other impurities. And what's more? It tastes amazing. Visit your natural grocer to try this miracle butter and we guarantee you'll never touch the traditional stuff again.
Persimmon
Sweet, tart and oh-so-good, the persimmon is truly a food of the gods. Persimmons are packed with antioxidants and phytonutrients which help to fend off free radical damage in the body and keep you healthy and strong. The hardest thing about eating a persimmon is knowing when it is ripe. A ripe persimmon should look a lot like a small, squat tomato. In fact, you will treat the persimmon almost exactly like you would a tomato. Set it in the sun and let it ripen until it softens. This is when the persimmon will taste the sweetest. Slice it up or eat it whole; there's no need to peel it. It's perfectly delicious and amazing as is.
Black rice
You know that brown rice is healthier than white, but have you heard of black rice? It has all the same health benefits of brown, plus more! Black rice contains anthocyanin antioxidants which are also found in berries. These antioxidants are famous for their ability to fight heart disease, cancer, neurodegenerative disorders and other diseases. Cook black rice the same way you would brown. It has a slightly sweet, nutty flavor you are sure to love.
Colorful cauliflower
OMG, it's a full on complete double rainbow all the way across my plate! If you've never experienced colorful cauliflower, get ready to get your double rainbow on. Not only is it more beautiful than plain white cauliflower, it's packed with much higher levels of nutrition than its plainer cousin. Purple, orange, green…each one is chock full of antioxidants, flavonoids, betacarotene and other essential vitamins and minerals you need.
Buckwheat
You've probably heard of buckwheat before, but believe it or not this grain is good for more than tasty pancakes. If you are going gluten-free, buckwheat is another amazing option to broaden your palate. It's good for improving circulation in the body, reducing high blood pressure, blood sugar management and better digestion. Not sure how to cook it? Try it instead of rice, in soups, as a breakfast cereal or even as noodles. You can get amazing buckwheat noodles called soba at any Japanese grocery.
Chia seeds
Ch-ch-ch-chia! Remember the Chia Pet of the 80's? Yep, it's back. And believe it or not, it's edible. Turns out, those same seeds that grew fur on all your favorite terracotta friends are actually a superpowered superfood. Once a staple in many Native American cultures, chia seeds are loaded with twice the fiber of oatmeal, five times the omega-3 of walnuts and three times the iron of spinach. Try chia seeds in your morning smoothie, tossed over salad, in soup or mixed into your favorite baked goods. They have a mild flavor that blends well with both sweet and savory foods.
More on health and wellness
Raw snacks you can't but love
Get fit and fierce in the New Year
5 Surprising reasons to try probiotics